The Blood Vote Poem Analysis Essays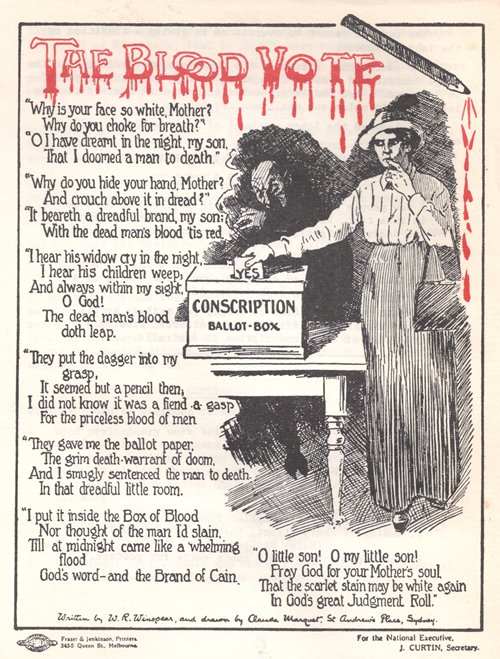 Leaflet bearing a verse by W.R. Winspear and a cartoon by Claude Marquet, featuring an image a deeply worried woman casting a 'Yes' vote while Billy Hughes, Australia's labor prime minister and supporter of conscription, looks on gleefully. It was printed by Fraser & Jenkinson in Melbourne, 1917 and authorised by J. Curtin, Secretary for the 'National Executive'. Source: 'Trove', NLA.
A life-and-death question
The Hon. 'Billy' Hughes liked to be known as "The little Digger." He was confident that Australians could be carried along, or cajoled into, his crusade for Conscription.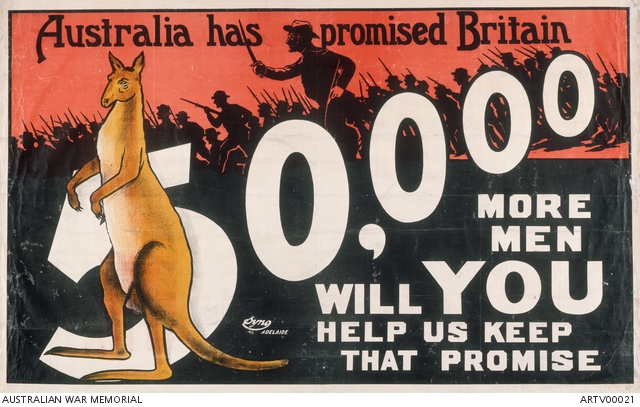 Hughes and other politicians prepared to commit the "last man and the last Penny" for Britain had underestimated public sentiment. The nation was divided.
The difference of opinion over compulsory military service excited passions like never before. C.E.W Bean in his Official History notes 'Heated political controversy was not strange to public life…'
But if all the bitterness, abuse, misrepresentation, anger, and hatred pertaining to the whole of these former pursuits could have been pooled, the volume thereof would not perhaps have equaled the fury of the storm which burst upon Australia when the conscription issue was brought before the people for decision.
For it veritably was a life-and-death question.
In a nutshell
The fault lines along which Australian society divided on conscription were complex, and are still not entirely clear… However with some import exceptions, Australians voted in ways which reflected their class, religion and gender, with class perhaps the dominant variable…It was a long campaign, lasting eight weeks, and public order soon disintegrated. Each side held mass rallies, often in the open. Crowds numbered up to 100,000 in Sydney.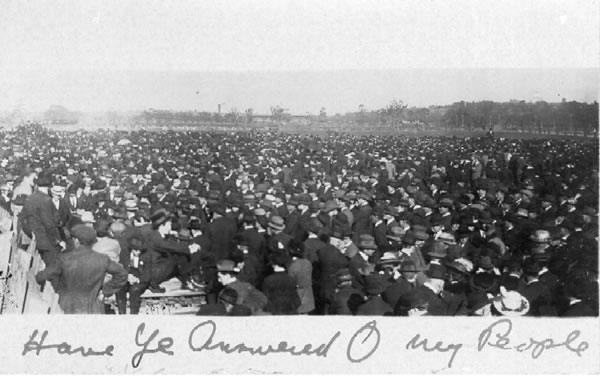 This is a postcard showing a huge crowd at an anticonscription rally on the banks of the Yarra River in Melbourne in 1916. The image shows a sea of men and a sprinkling of women standing in an open area. A handwritten note under the photograph (penned by John Curtin) reads 'Have Ye Answered O my People' and another on the back of the postcard reads 'Not a bad crowd to bang at'. 'Kodak Australia' is printed on the back of the card. Source: John Curtin Prime Ministerial Library; http://john.curtin.edu.au/education/tlf/R2991/00687157_image/index.html
On the 28th of October 1916, Australians were asked to vote. "YES" or "NO" in favour of military conscription or against it. As one of the first democracies to give women the vote, both sides of the debate would try to sway female opinion. Women also actively participated in the campaign.
Hughes: Europe, drenched in blood.
In July 1915 the War Census Bill was brought before parliament. The Census gathered information on men eligible for military Service. During parliamentary debate, Prime Minister W M Hughes guaranteed that
In no circumstances would I agree to send men out of this country to fight against their will.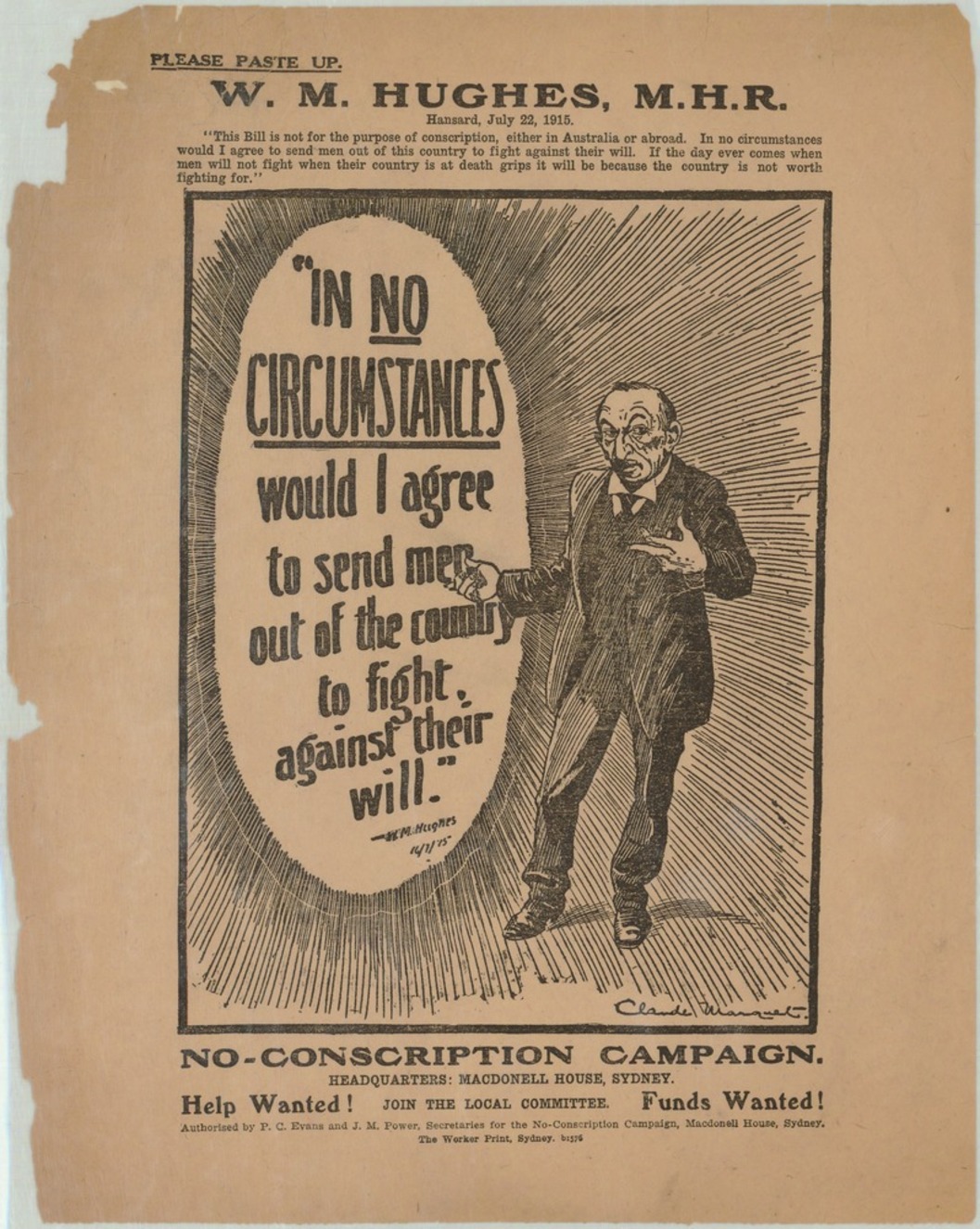 The Bill was passed through the Senate.
180,000 people, however, refused to fill in their War Census forms. The Unions and other organizations had warned that the census was just the start. Compulsory conscription would be next. Their suspicions proved well founded. Just over a year later "Billy" Hughes back-flipped, vowing that
he was going to fight for a 'Yes' vote [for conscription] as though he were fighting for his very life.
There would be no escaping a compulsory call-up if the P.M. got his way.
Hughes whipped himself into a lather garnering support. His parliamentary speeches bordered on the hysterical: French collapse was imminent, Germany was on the brink of victory! Britain's manpower shortage was critical,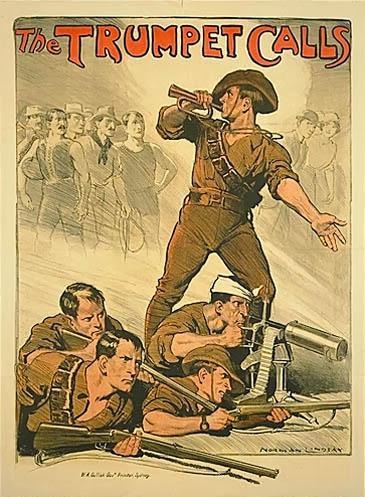 Don't leave the boys in the trenches. Don't see them butchered. Don't leave them below their strength or you cover Australia with shame.
Europe has been drenched in blood, innocent non-combatants foully murdered or subjected to unspeakable outrages… their beloved country ravaged by fire and sword… Our only hope of national safety, of retaining our liberties, lies in decisive victory by Britain and her allies over the hosts of military despotism.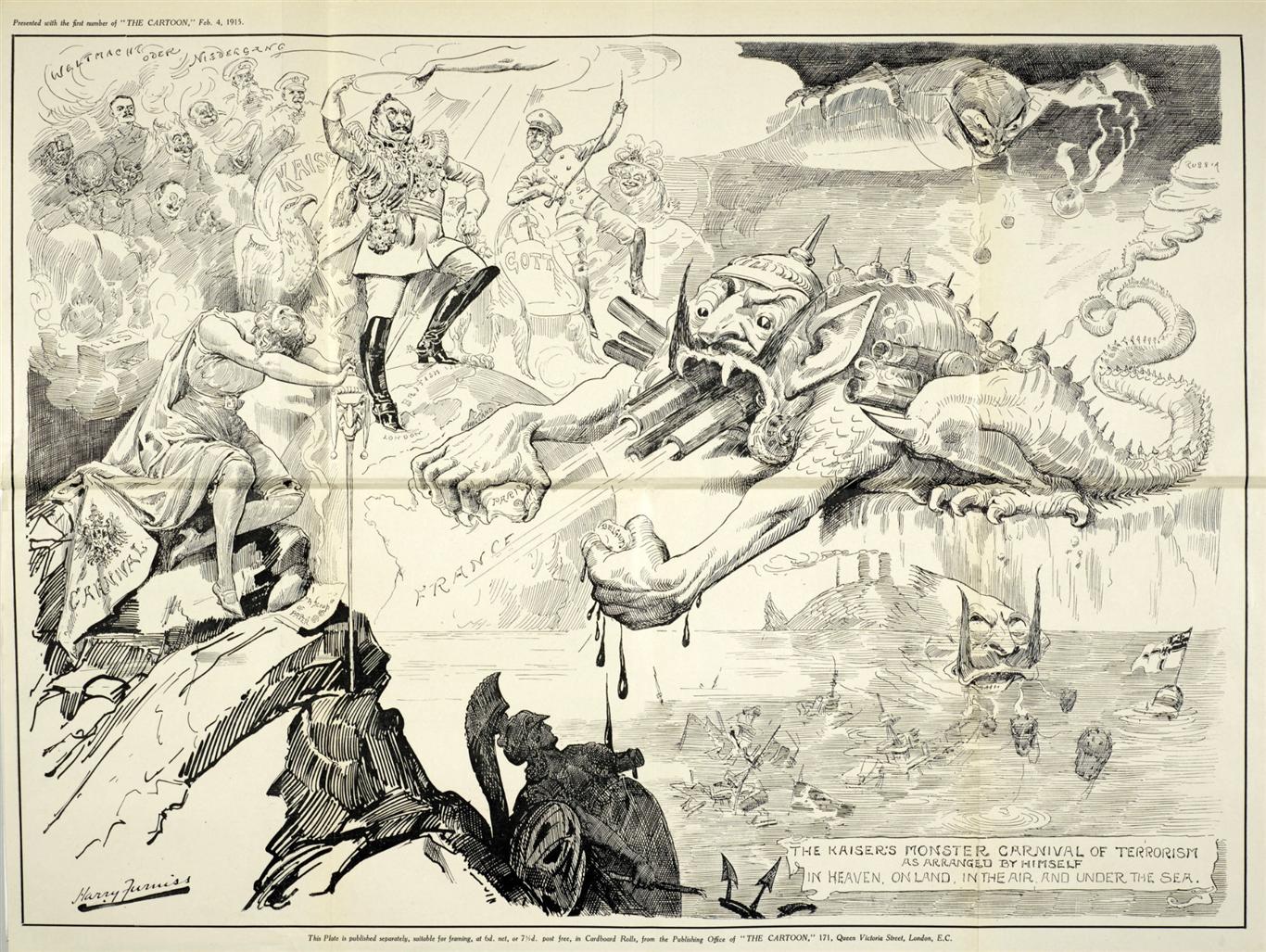 Unfortunately, Hughes was right about one thing. This war was a titanic struggle to the death. The battle for Europe was about the attrition of resources, bleeding the enemy dry. To this end a generation faced decimation.
Bean reports: Divisions at the Front
A.I.F. soldiers were given the vote 2 weeks before the Australian electorate. Another ploy by Hughes. C.E.W. Bean wrote
As one of the chief grounds of appeal in Australia was the supposed call from the troops at the front for reinforcements, an adverse vote in France would gravely imperil the chance of securing a favourable vote in Australia.
Hughes cabled General Birdwood in London on October 15th. Birdwood
like most other officers, had rigidly refrained from any attempt to influence his men concerning the issue.
Hughes implored that Birdwood
put aside precedent and to use his great influence with the troops in order to induce them to carry conscription by a large majority, and thus give a lead to the people.
The appeal from the Australian Prime Minister…was couched in terms which no patriot could easily resist. Birdwood at once dictated a message asking the troops to vote according to their consciences, but telling them of the considerations, perhaps better known to him than to them, which rendered urgent the need for reinforcements.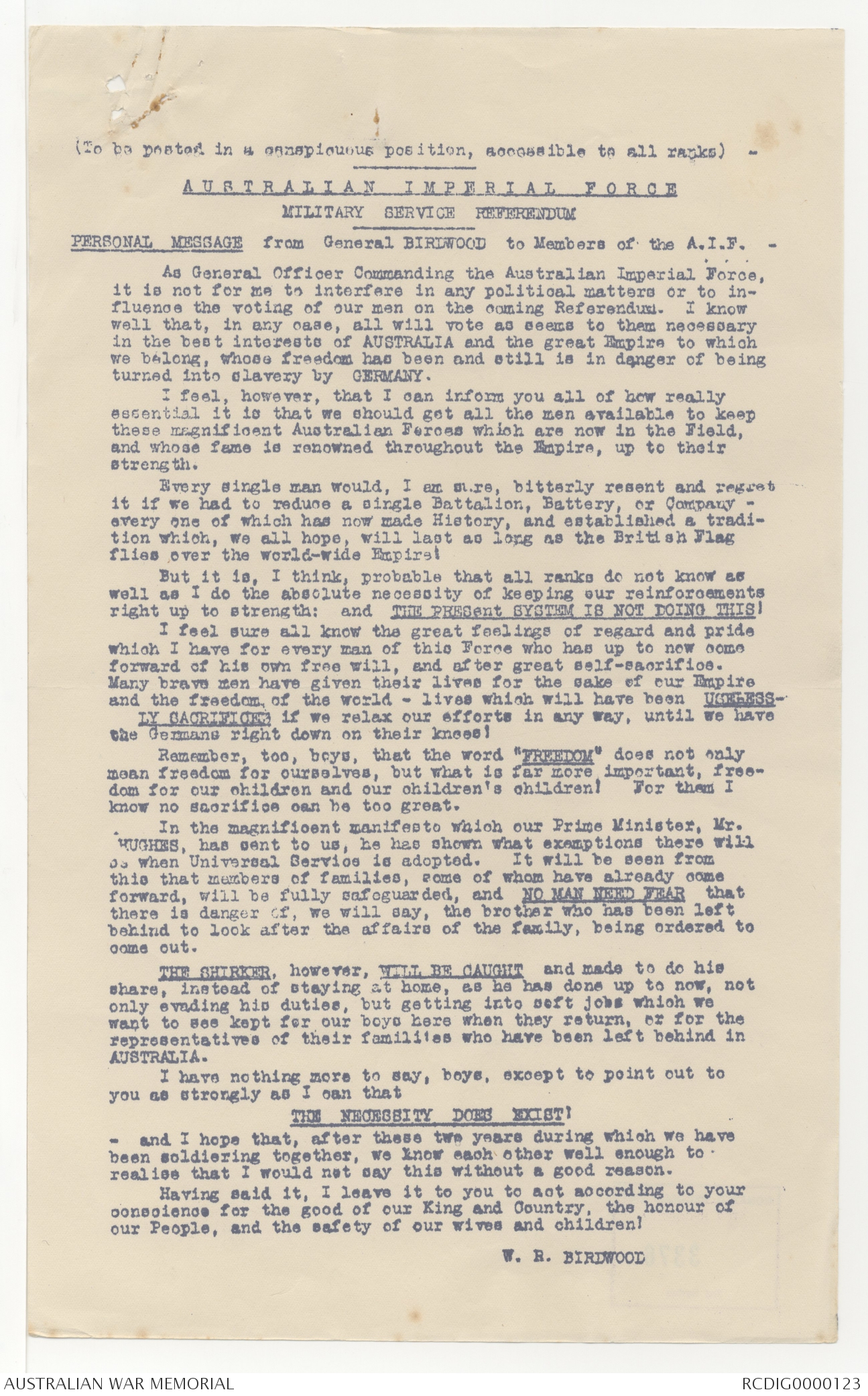 In the meantime, influential journalist Keith Murdoch had been working behind the scenes. He organised for influential Australians to speak to the troops to further the 'YES' vote. Sir Douglas Haig consentent.
Haig insisted, however, that the officers be kept out of proceedings. Their absence, he hoped, would make the troops more amenable to a resolution asking Australian to send reinforcements.
Bean mentions how the Agent-General for South Australia addressed part of 6th Brigade –
explaining frankly the object of the meeting, and relying largely upon the argument that Australia at present stood first among the dominions in the eyes of the British nation, and that, if she did not adopt conscription as the British had done, she would lose that regard.
The troops made their feelings clear.
[T]hey did not care whether Australia came first in the opinion of Great Britain or not-they desired that a sufficient number of Australians should be left after the war to develop their empty country in accordance with the present character of their nation.
Australia, they held, was already 'doing enough'.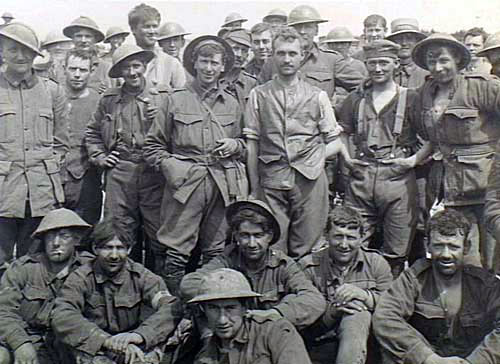 Allan Allsop (standing, centre) with his chums, somewhere in France.
Pte. Allan Allsop: "No Conscription" without hesitation.
W.J.A. Allsop, a clerk from Brierley Street, Mosman enlisted in the AIF in July 1915, aged 22. Allan Allsop served as a stretcher bearer and despatch rider for the 8th Australian Field Ambulance.
His diary entries were written in billets or estaminets (cafés) near Armentières. He notes strong intentions of how he and his mates were voting.
9th October (Monday)

Estaminets closed for 3 days.

10th October (Tuesday)

On Wagons touring round the streets after rubbish. No more souvenirs [shells/shrapnel] from Fritz. Heated arguments against conscription, in our billet till late at night.

The remainder of our unit arrived soon after 6.30 pm and I had to direct them to their respective barns. The people in our Estaminet [lodgings] speak surprisingly good English.

15th October (Sunday)

Good sleep last night. Route march with packs up in morning. In afternoon list of shortages in equipment taken & leaflets issued from Mr. Hughes re conscription. He advises all of us to vote yes but so far as the majority of those I know are concerned it will be a solid "NO". The evening turned out bitterly cold just after we returned from blackberry picking.

16th October (Monday)

Reveille at 5.30. Breakfast 6 am. Parade with 1 blanket at 7. These are being sent off with the transport. Party of 12 left at 6.30 for Armentieres to load a few wagons there. At 8.30 we were called to the Orderly Room to vote. Mine was "No Conscription" without hesitation. Most of our unit voted likewise. When half way through the voting orders came to stop proceedings but we put all the votes through. The reason for stopping is unknown.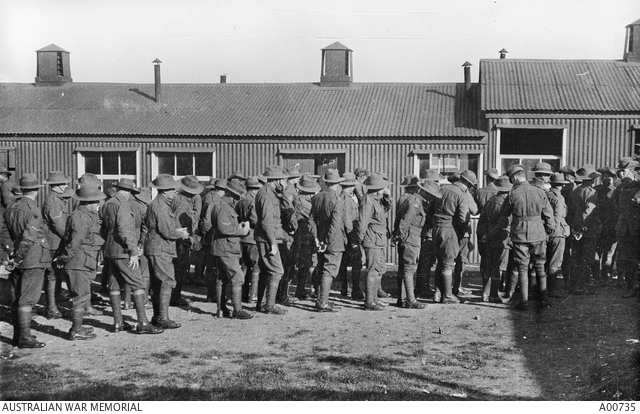 Soldiers of 6th Brigade reinforcements waiting in line to vote for the first Australian conscription referendum at Rollestone Camp, England.
Bean explained why voting stopped. General Birdwood's message to the troops could not be delivered on time, so he sent a postponement order. The order arrived after polling in some units had begun. Voting was in Bean's words "accordingly broken off."
Allsop and his comrades ignored the order. Bean describes why this may have been the case
The Australian soldier was, like most others, resentful of any attempt by his officers to interfere with his free judgment as a citizen.
Allsop's diary entries are brief. He and fellow Diggers were against conscription because, in Charles Bean's observations.
Some were strongly averse to the prospect of having in their regiments men who had avoided voluntary enlistment. Others feared that conscription would mean the introduction of the hated death penalty. Others again would vote as members of the Labour Party, of which the main wing opposed conscription.

The common argument that it would provide rest for their overworked units did not impress them, for they well knew that replenished units were likely to be constantly sent into battle, and weaker ones rested.

But beyond question the most general motive among the soldiers for opposing conscription was one not without nobility. They themselves, when they enlisted, had not known the trials and horrors of war; and, now that they did know, they would not, by their votes, force any other man into those trials against his will.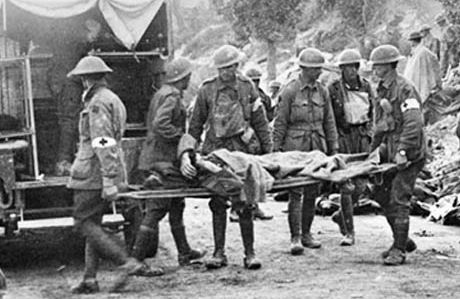 Bean gives a breakdown of the polling results.
Practically all the officers, most of the N.C.O's, and at least half of men, were in favour of conscription… The polling, which had begun on October 16th as the units reached villages behind the line, was quickly completed. The vote of the A.I.F. was found to be in favour of conscription, but only by 72,399 against 58,894; and it was understood that it was the men on transports and in camp, rather than those actually at the front, who were responsible for the excess of the "Yes" vote.
Billy Hughes was livid, and had the results suppressed. He was forced to release them, but only after the plebiscite had taken place.
Back in Allan Allsop's home suburb of Mosman, far removed from the horrors of the Western Front, feelings about conscription ran high. But mostly in the opposite direction.
Mosman stands by Hughes
Billy Hughes assumed from the outset that 80% of Australians would support him. The remaining 20%, he thought, could be persuaded or brow-beaten into accepting the YES case.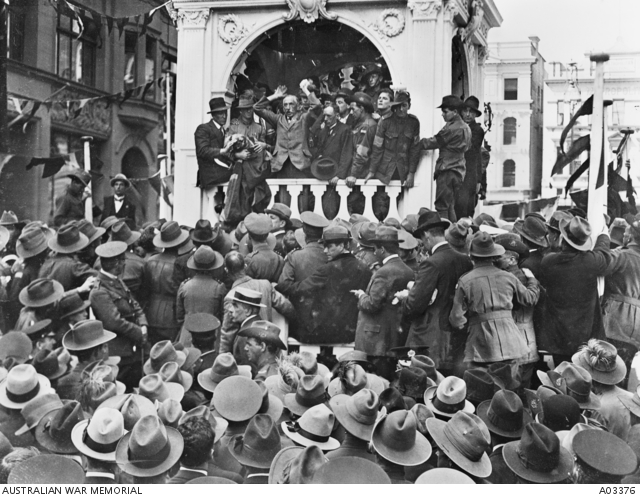 The prime minister W M Hughes speaking in Martin Place, Sydney, 1916.
Hughes started the campaign by addressing his traditional supporters. He reached deep into his bag of "oratorical, logical and political tricks to convert all, or at least some… to support his referendum campaign". But to no avail. The majority of Labour politicians and rank-and-file remained skeptical. They resolved on a resounding NO.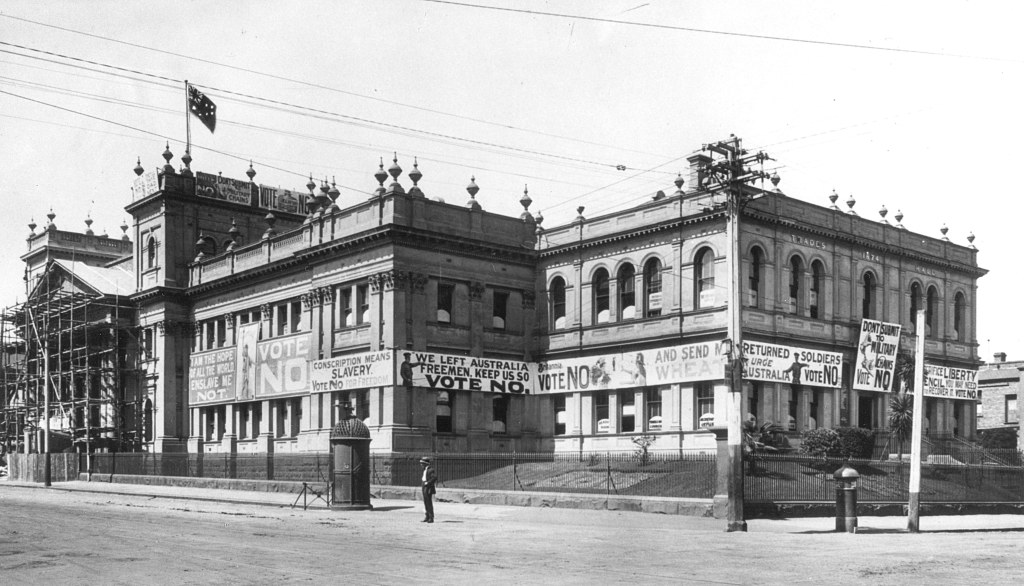 Trades Hall Melbourne
So he turned to middle-class and conservative voters more receptive to his call to arms.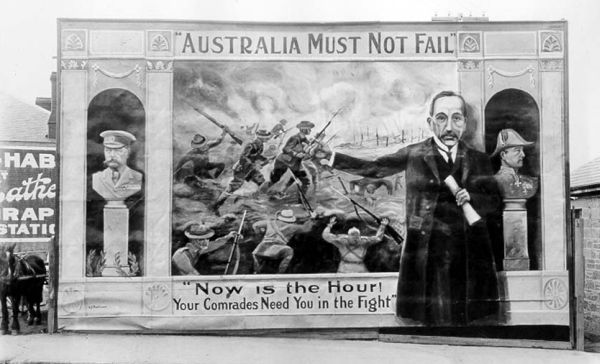 In what was to be a notable exception, Hughes had got the numbers right for Mosman. 81% of residents were in favour of conscription, the highest return for the "YES" vote in NSW. The state average was 43%. The nearby suburb of Naremburn came closer to the national trend with 50%.
Many local groups held meetings in support of conscription.
The Mosman-Neutral Bay Rifle Club/Association trained volunteers and raised funds for Belgian war victims, organizing a patriotic 'Carnival' (shooting competition) in 1915. In 1916 it hosted entertainment concerts and sent 'comfort' packages to the troops.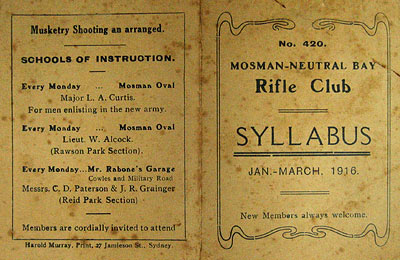 The following resolution passed at their 2nd AGM.
CONSCRIPTIONFAVORED BY RIFLEMEN. SOLDIERS OR CIVILIANS?
At Friday night's meeting of -the Mosman-Neutral Bay Rifle Club (says the "Daily Telegraph") Mr. A. G. Gilchrist moved, -
"That this meeting considers the time has now arrived when, conscription should be brought into force in Australia to assist in bringing this terrible war to a speedy and satisfactory conclusion, and that copies be sent to the Universal Service League and the daily press."
In speaking to the motion, the mover said they did not like conscription. "But it was not a case of liking but one of national necessity."(Cheers.)
Mr. Heath, who seconded the motion, said he was a married man with responsibilities. There were any amount of available young men and for that reason he seconded the motion.
The point was raised as to whether the club as a military Body was within its rights in passing a motion of that sort.
A voice: We are only semi-military.
Mr. Gilchrist: So far as a military body is concerned I think we are semi-mongrel. (Loud laughter.)
Appeals were made for a withdrawal of the motion, but Mr. Gilchrist refused.
A voice : Only recently a letter was issued by the State Commandant asking soldiers to keep away from anti-conscription meetings. I think we as a military body are in the same plight. It would be better for them to join the Universal League as private citizens. Mr. Rex said they were only sworn in to defend Australia, and nothing else. The chairman (Mr. J. C. Cargill) said they might be wrong in passing the motion and also sending it to the press.
A voice: What will the penalty be? (Laughter.)
The chairman : I do not know. We may be disbanded. The question remains, ought we to do it?
Chorus of "Yes."
The chairman said he would not rule the motion out of order, but he would ask them to consider whether it was advisable in the interests of the club and military discipline.
Voices: Put the motion.
A voice: What is the difference between a soldier and a civilian ?
Cries of "The uniform."
An amendment was moved that the motion be deferred for 30 hours.
Cries of "No'"
The motion was then put and carried by an overwhelming majority.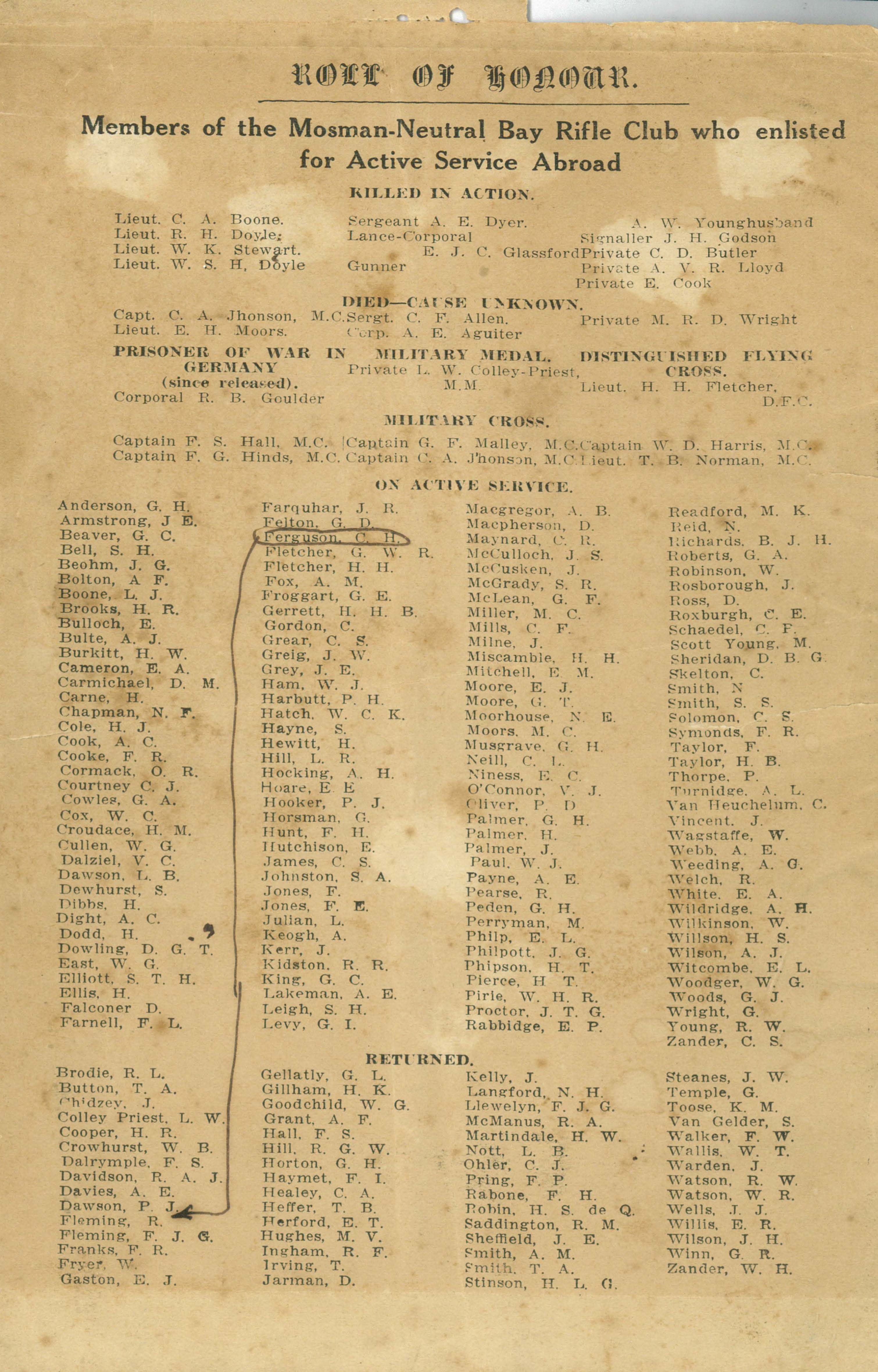 The pro-conscription Sydney Morning Herald reported on 28 September 1916 that Mosman Council was also on board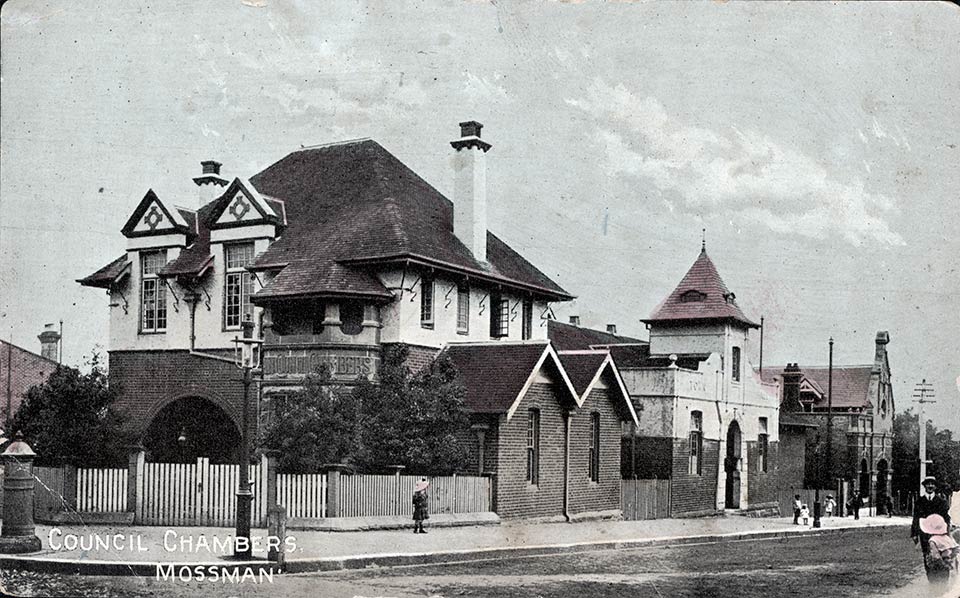 Mosman's first council chambers at Spit Junction. Image: Mosman Library
MOSMANCOUNCILTAKESACTION
A letter received by Mosman Council from the Prime Minister Mr. W.M. Hughes asked the Mayor to convene a public meeting to establish a strong committee, with a view of bringing to a successful issue the referendum proposals. The council agreed to the Prime Minister's request, and a meeting will be called … to be held next Friday night at the Protestant Hall, at 8 o'clock, for the purpose of taking a vote by ballot on the question of conscription.
Hughes found his message also resonated well with some women's organizations. Many joined in his crusade for the Empire's cause.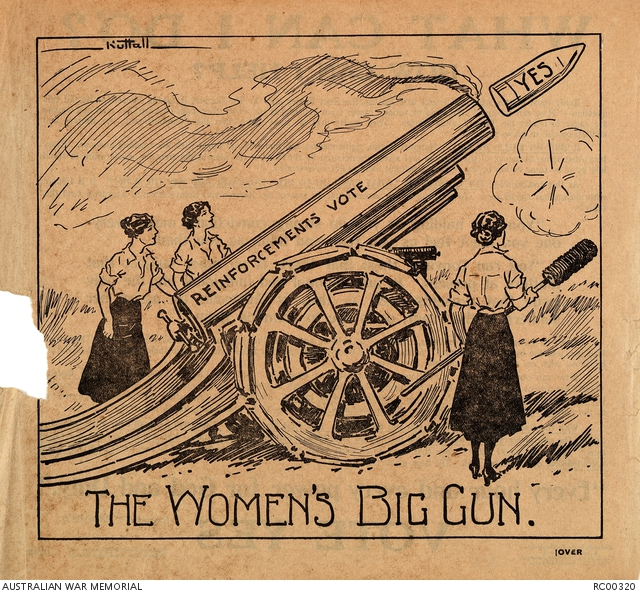 On October 10 The Sydney Morning Herald reported
MOSMANWOMEN.
A largely-attended meeting of women, presided over by Mrs. Stanhope Swift (president of the Mosman-Neutral Bay Reform League) was held in the Mosman Town Hall last night.
Mrs. Swift called upon her audience to realise that the successful carrying of the referendum cast upon the women a solemn duty, and they should take up their cross and bear it in the light of righteousness and freedom. The women should be up and doing, and show the anti-conscriptionists that they at least would not allow their noble heroes at the front to languish for the want of support. (Applause)
Miss Collison, B.A, of the women's committee of the State National Referendum Campaign then spoke. Ms. Collision believed women had an "unprecedented responsibility … as voting citizens of the Commonwealth with equal rights" to support compulsory enlistment.
If they [women] believed in the preservation of life they should see that sufficient reinforcements were sent to bring the war to a speedy conclusion. It was untrue to say that conscription was undemocratic. Those who objected to compulsion now did not scruple about compelling a man to join a Union. Did they get the privilege of an eight-hour day without compulsion? It required compulsion to have the minimum wage placed upon the statute book. Again, people did not pay taxes of their own sweet will.
They had had compulsion all along the line, and where was the logic of opposing it in a grave matter of this kind? (Applause).
Miss Collison concluded by moving:- "That this meeting pledges itself to stand by Mr. Hughes in the action he has taken on conscription, and to work towards the triumphant carrying of the referendum."
The motion was seconded by Mrs. Burton and carried amidst cheers.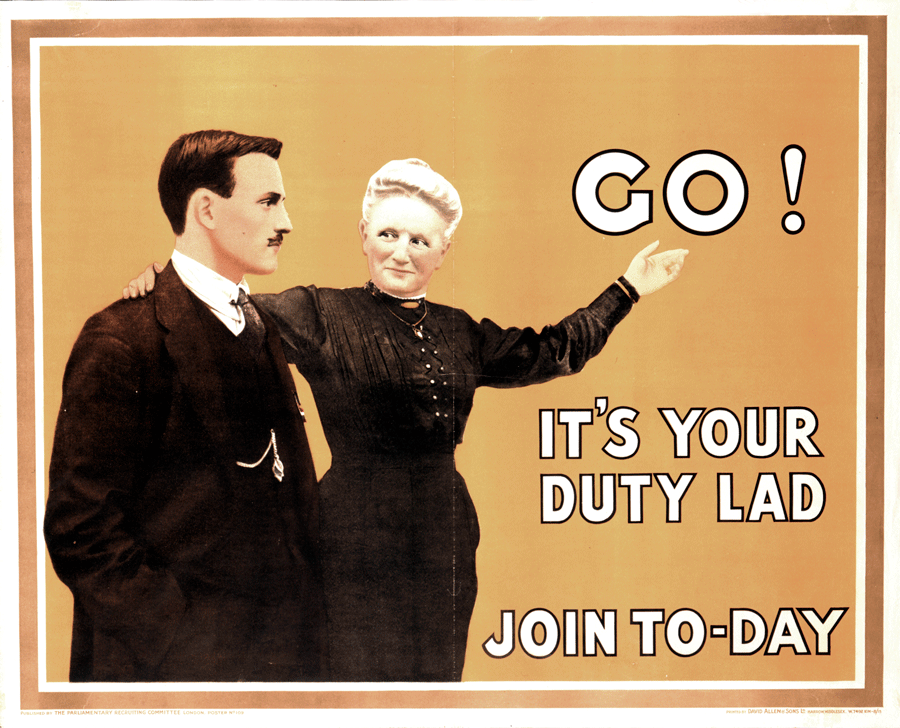 Knuckles, boots and curses
Ms. Collison's arguments at the Mosman Town Hall would have fallen flat with "NO" voters. The compulsion to pay taxes and join Unions did not cause permanent disability or death, devastate families or decimate communities.
Collison was preaching to the converted. No anti- conscription protest was reported. In Melbourne, women speakers for the 'National Referendum Council' were pelted with mud by factory workers as they left a meeting.
In turn, pro-conscription supporters threw rotten eggs and broke banners during demonstrations described by The Age on the 23rd of October as a
parade of women promoted by the United Women's No-Conscription Committee – an immense crowd of about 60,000 people… a surging area of humanity". .
Pro-conscription meetings in other parts of the country were disrupted. Hecklers catcalled, stamped, chanted and booed. Socialist songs and invading podiums also drowned out pro-conscription speakers. Offal and bags full of bull-ants were also reputedly sold and used as projectiles.
But protests could get out of hand. In Brisbane servicemen forming military picket broke ranks and attacked demonstrators. The 'NO' rally degenerated into a "free fight of knuckles and boots, riding whips and curses." One person was shot with each side blaming the other for the assault.
Workers follow your Masters
For socialists and pacifists the answer to ending war was simple. As the poster suggests, if the privileged (who advocated conscription) were so enthusiastic, let them go and die in the mud.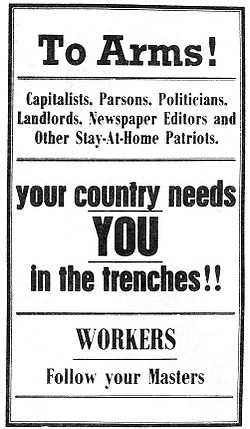 A high stakes game of cat and mouse existed between 'NO' campaigners and authorities. Laws were introduced to make gatherings in public illegal. Publishing houses were raided and printing presses confiscated or destroyed. Censorship of the press, surveillance and arrests of individuals increased. But despite state repression, 'NO' activist resistance stayed resolute.
International Workers of the WorId ( I.W.W. or 'Wobblies' ) were up against the system. Biased judges, trumped up charges, police informant evidence. Their leaders were locked up.
How did they react? More pamphlets, more rallies. Direct Action printed 135 issues between 1914 and 1917. (With a circulation of over over 8000 copies by the election on October 28. Police surveillance reports of I.W.W. speakers in the Domain, Sydney of IWW, mention the defiant attitude of the speakers, evidenced in their printed material.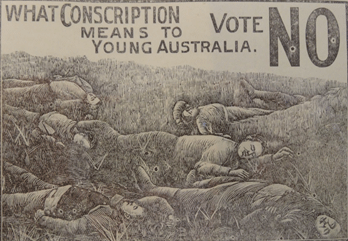 The press, including the conservative Sydney Morning Herald advocated for Conscription. However a Trove search using the keywords "Conscription" + "1916" ( in 'Digitised newspapers and more..' + 'New South Wales') is quite revealing.The Australian Worker has 454 results and The Sydney Morning Herald, 295. Anti-conscription printed material not only stayed in operation but outpaced its rival publications.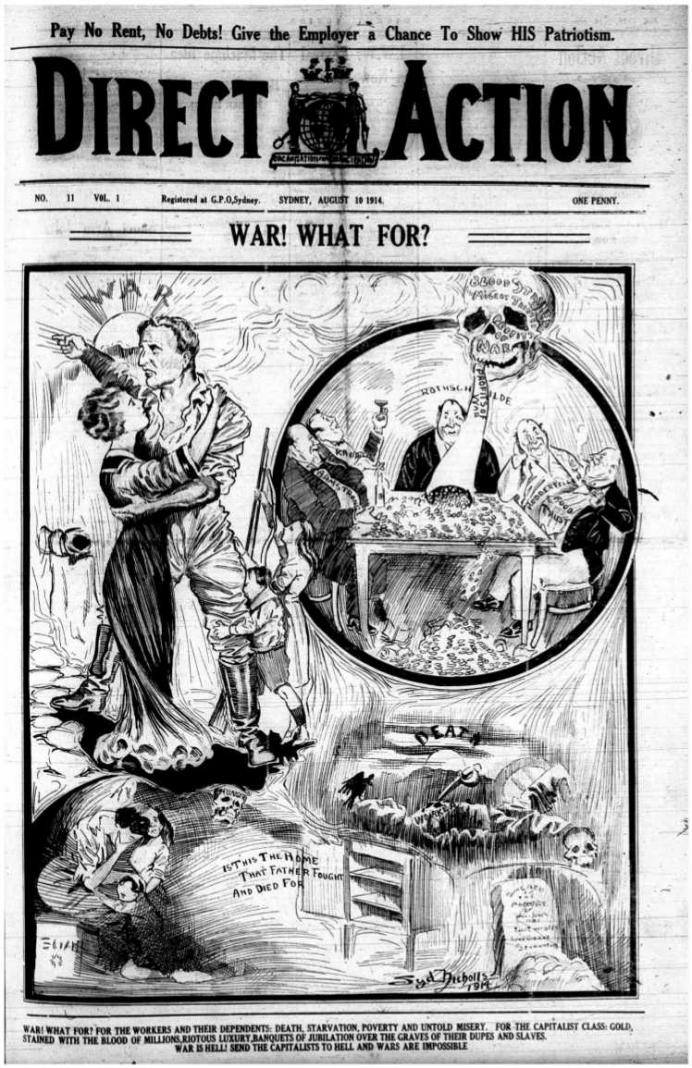 'Direct Action' Magazine front cover published by the Industrial Workers of the World Australian Administration
Uncensored left wing papers advanced strong philosophical arguments against conscription. In the words of Charles Bean 'one very ably written pamphlet of The Australian Worker put this view:-'
Society may say to the individual: "You must love this; you must hate that." But unless the individual feels love or hatred springing from his own convictions and his own feelings, society commands him in vain. He cannot love to order. He cannot hate to order. These passions MUST find their source within his soul…The man who is forced to fight is as viley outraged as the man forced to fondle.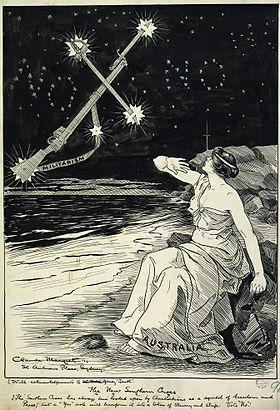 'The New Southern Cross' by Claude Marquet
With their men interned, left-wing women's activists stepped-up. They railed against any women who had become the 'terrible recruiting sergeants of the war.' The cowardly 'white feather brigade', who shamed men into enlisting were especially hated. When the conscription of female labour for industrial work was proposed by a pro-war women's group, 'Mrs Potts Point' and 'Mrs Mosman' in particular were singled out for derision.
'The spectacle of this idle, vicious, good for nothing clique, who cannot wash their own soiled underwear without having a woman of the working class to do it for them, discussing the problem of work, is enough to raise a howl of laughter in hell. If one could be sure they could be taken out of their mansions and motor-cars, placed in the factory, and compelled to house, clothe, and keep themselves on fifteen shillings a week which statistics show to be the average wage for female labour in Australia, industrial conscription might be justifiable.'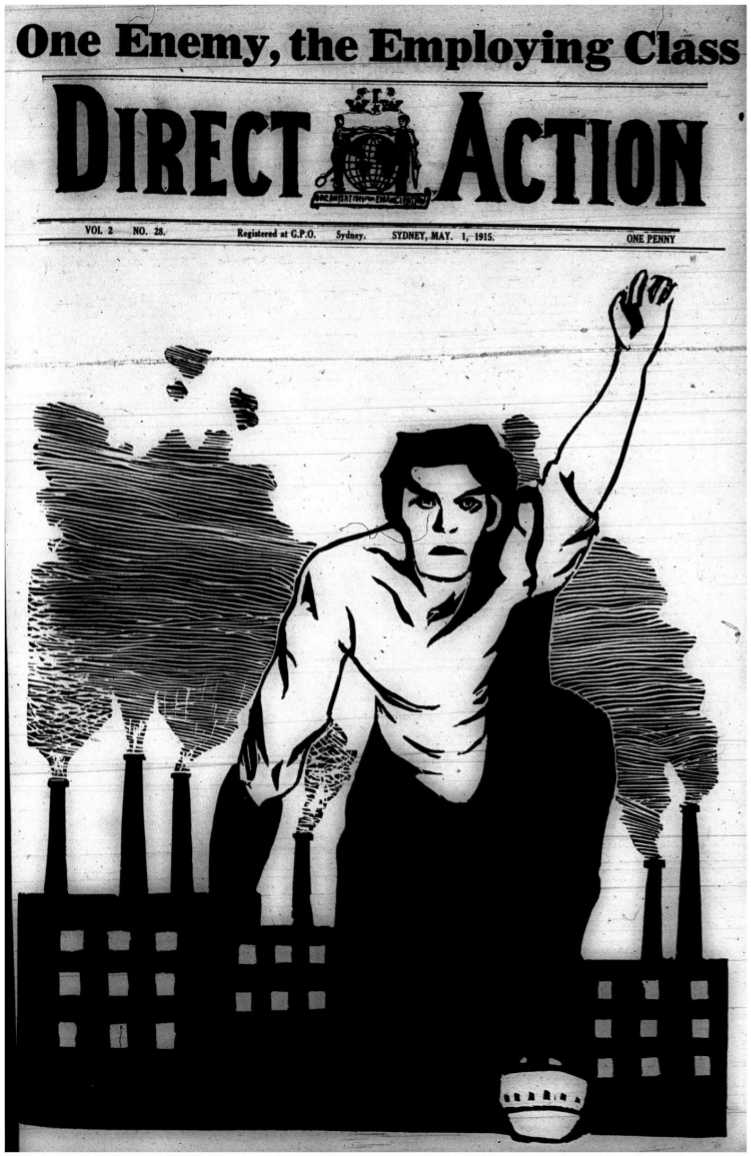 'Direct Action' Magazine front cover published by the Industrial Workers of the World Australian Administration
The grim death warrant of doom
The propaganda campaign targeting the hearts and minds of women voters was uncompromising.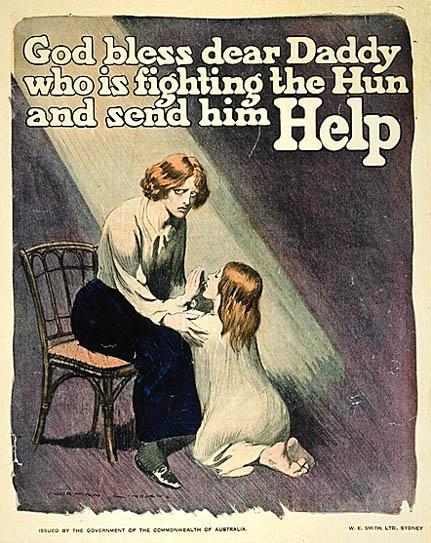 Poster by Artist Norman Lindsay
"The Blood Vote" pamphlet pictures a mother placing a YES into the Ballot box. She has a look of self-doubt – her decision weighs heavily. A gleeful devilish imp or Nosferatu type figure (Billy Hughes?) cowers in the shadows.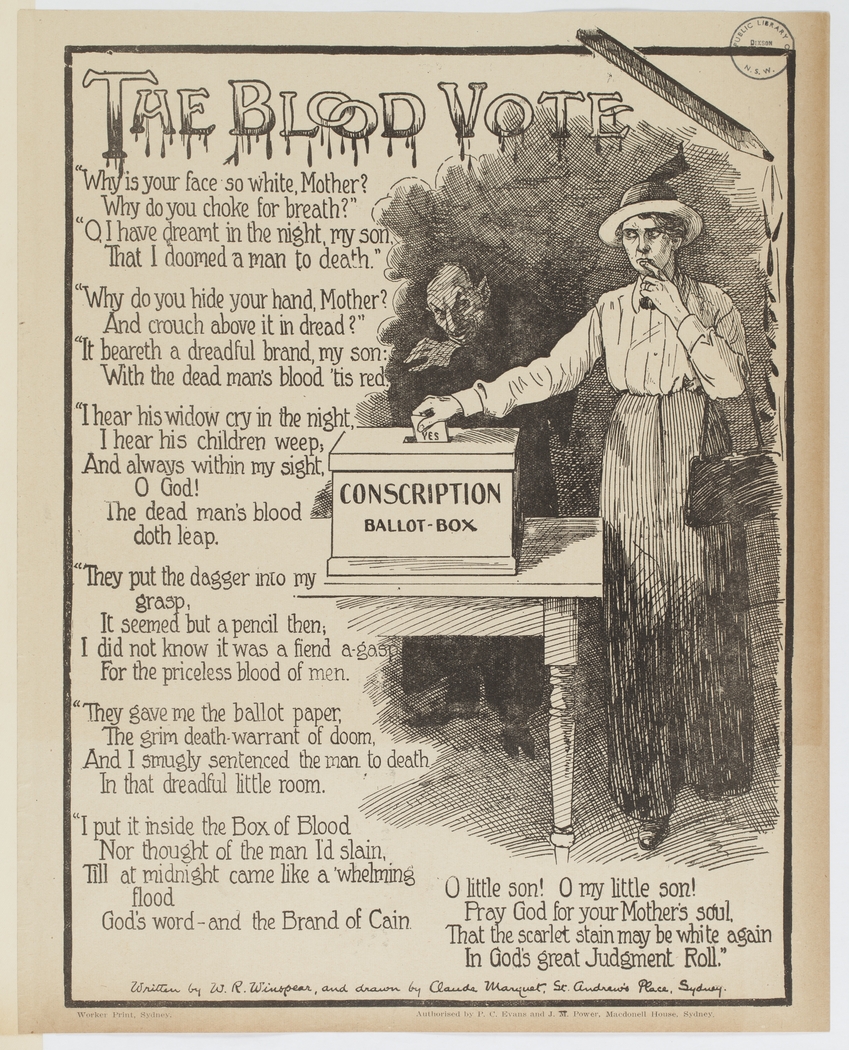 The poem completing this nightmarish image is dramatic and compelling (and worth reading in its entirety.)
In brief the pen the mother holds is likened to a dagger, put into her hands by the fiend behind her. She has signed the ballot paper, the grim death warrant condemning an innocent father to death. His widow cries out for him in the night, and his children weep, missing their father. The mother prays for forgiveness to her little son, desperate to wash away the blood-guilt, an indelible stain on her soul.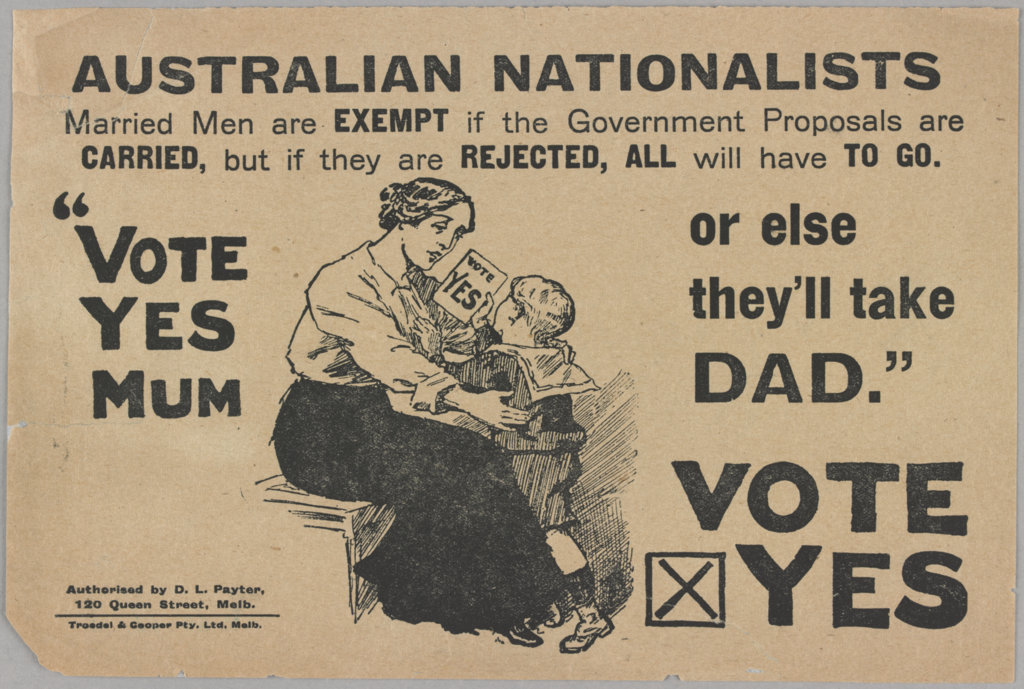 The YES campaign poster above reassures mothers that family men would be exempt.(It also, somewhat disingenuously, suggests that if the NO campaign gets up 'all will go.')
The NO campaign copied the image and replied: dads will go anyway if you vote YES. This happened in Britain where once the supply of single men had been exhausted, family men were drafted.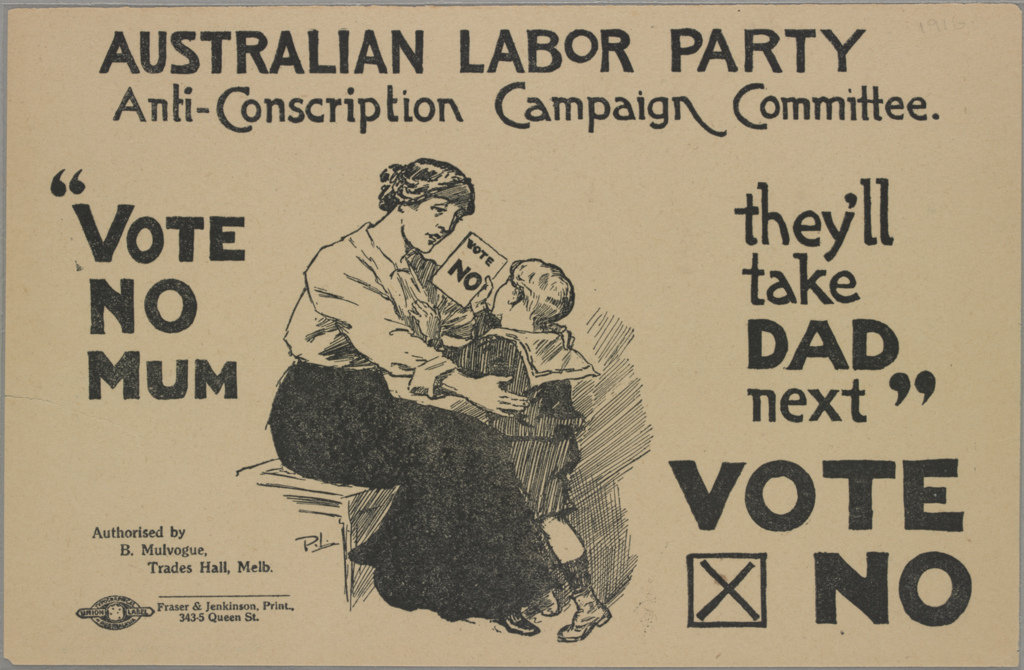 The surprise of their lives
Hughes thought that he would give young men the "surprise of their lives on polling day."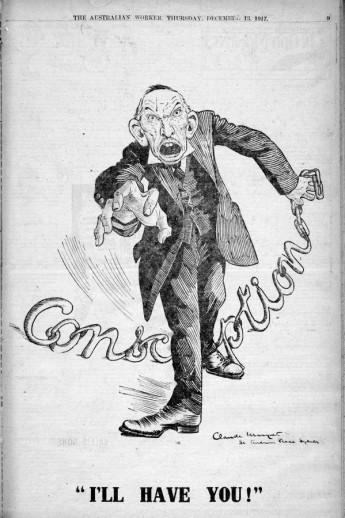 His manipulation of political processes and attempts to intimidate voters, however, backfired.
On Sept.29 Hughes had the Governor General announce a call up and registration of all eligible men. He consulted neither the people nor parliament. Controversially, all men registering were fingerprinted – an activity usually associated with criminals.
On Oct.25 at a meeting of the executive council, Hughes put forth another decree. It was rejected by 3 of the 5 council members present. He re-convened on Oct.27, with the Governor-General attending. (The G.G. was unaware the proposal had been rejected 2 days earlier.) The motion carried.
This proposal authorized polling officers to question all Males 21 – 35yrs on voting day. They were asked if they had heeded the 29 Sept. call-up and registered for military service. If they answered no, their ballot would not be counted.
The proclamation of this new regulation was to be delayed until just before the poll. Despite attempts to suppress the edict going to print, it was leaked to the Gazette.
The fallout was immediate. The executive council rejected the last minute proposal and 4 Ministers resigned. The government faced a publicity disaster and complete collapse.
Voting day fallout: 'NO', by a nose
On polling day, voters were faced with the following question.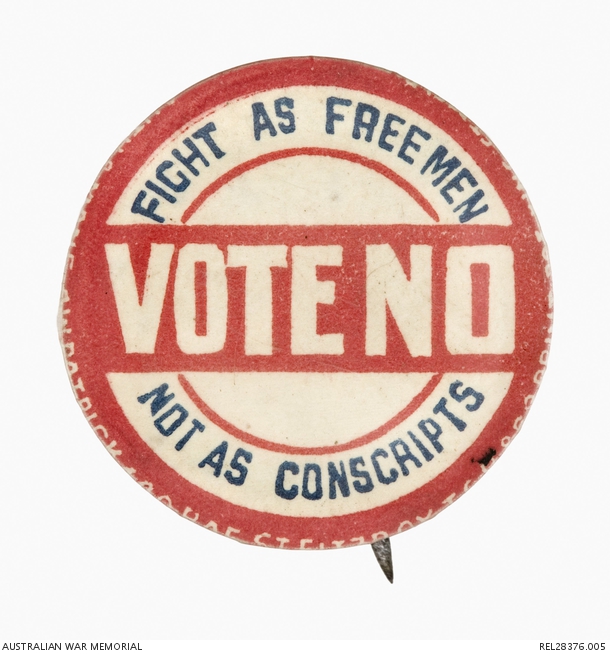 Are you in favour of the Government having, in this grave emergency, the same compulsory powers over citizens in regard to requiring their military service, for the term of this war, outside the Commonwealth, as it now has in regard to military service within the Commonwealth.

YES or NO?
The wording confused many respondents, but did not change the result.
The NO camp won, in racing terms, by a nose.
Billy Hughes, expelled from the Union movement, and his Labour Party membership revoked, realised his time was up.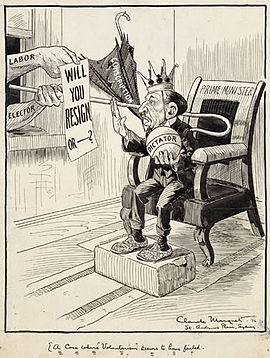 He remained defiant to the end. It was everyone else's fault. Socialist groups, pacifists, the Irish.
I did not leave the Labour Party. The Party left me.
Hughes took what was left of his political support and joined the Conservatives. He formed a Nationalist Coalition and won the 1917 election. Despite this he lost the 2nd Conscription plebiscite (by a larger majority on the 20th December, 1917.)
Hughes represented Australia at the Paris Peace Treaty in 1919. Never the peacemaker, he vociferously insisted on crippling repayments by Germany, which ultimately led to another war. After 1918 Hughes stridently upheld the 'White Australia Policy'. At the newly formed League of Nations he voted against an anti-discrimination clause introduced by Japan.
Alan Allsop returned to Australia in 1919. His 5 diaries were purchased in 1920 by the State Library of NSW. They provide an invaluable 1st hand account of his experiences in the 'war to end all wars.'
A few days after the Oct. 28 plebiscite, 3 year old NZ gelding Sasanof ridden by Wilfred Gatonby Stead won its race in Melbourne. A golden trophy cup was presented for the 1st time. Australians still celebrate 'the race that stops a nation',
We have all but forgotten the "blood vote" that divided it, 100 years ago.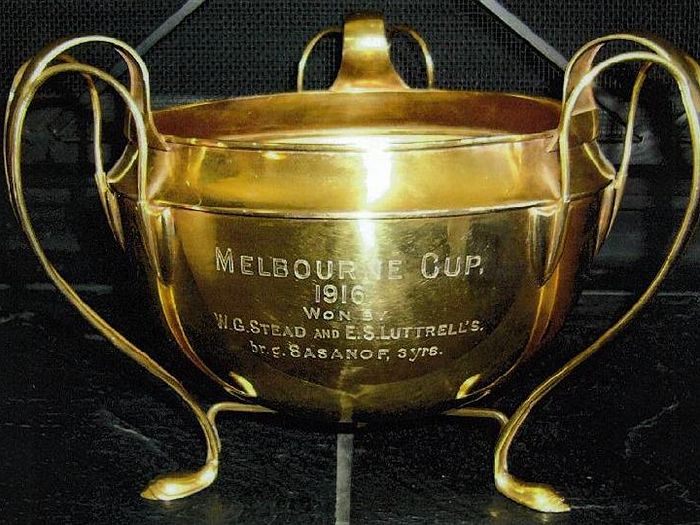 ---
Footnotes
A man stands on a beach in a distant land. Waves lap his ankles. He wades through the gentle dawn light, arms outstretched, his head held high. He is fully dressed; not a tourist but a freedom fighter.
A photograph of this man, beamed around the world, becomes a universal symbol of the struggle against tyranny and the sweet triumph of liberty. It is 2015. The man is Peter Greste.
If you thought the man might have been an Anzac on the shores of Gallipoli, such is the power of persuasion. It's easy to lead a horse to water when, in the centenary year of the Gallipoli campaign, our nation is at saturation point with battlefield remembrance.
The sum total of television programming, beer advertising, political grandstanding and opportunistic marketing suggests that the historical legacy of Australia's involvement in the first world war boils down to a simple equation: young (white) man plus distant beach equals sacrifice.
There is nothing intrinsically wrong with military commemoration that honours the dead. Last weekend I planted Gallipoli rosemary in my backyard; part of the proceeds go to the Avenues of Honour, a national project to preserve and restore Australia's living memorials.
More objectionable is the fact that war remembrance is played like it is a zero sum game. To widen the scope of historical tribute, and also recall the words and deeds of the Australian men and women who fought against the prescribed route of militaristic sentiment, is to risk being branded disrespectful and divisive.
But the unassailable fact is that the first world war ripped Australia asunder. Even at the time, the Great War itself was divisive, a historical reality belied by today's bland, blanket coverage of "the Anzac spirit".
Australia's participation in the war was contested from the outset. On August 11, 1914, veteran political campaigner Vida Goldstein wrote in her Woman Voter newspaper:
It is a fearful reflection on 2000 years of Christianity that men have rushed into war before using every combined effort to prevent this appalling conflict.
As she had done 20 years earlier in mobilising forces around the issue of female suffrage, Goldstein rallied her own army of foot soldiers with fighting words.
The time has come for women to show that they, as givers of life, refuse to give their sons as material for slaughter.
Australian and New Zealand women women had a unique advantage in shaping public debate: the vote. "The enfranchised women of Australia are political units in the British Empire," Goldstein argued, "and they ought to lead the world in sane methods of dealing with these conflicts."
Goldstein's early entreaties failed to bite with the general populace. Under the newly legislated War Precautions Act, the Woman Voter suffered censorship, leading Goldstein and her Women's Peace Army to fight on multiple fronts: "we are fighting for Civil Liberty and against Military Despotism". Around the nation, trade unionists opposed to "the capitalist war" joined the movement.
Australia had the only entirely voluntary military service among the Allied forces; less than 40% of eligible men signed up to fight "for King and Country". As the carnage at Gallipoli brought home the realities of war, recruitments fell and peace activism became more widespread. General strikes halted industry, as workers reacted to the food shortages, unemployment and rising poverty that threatened the social accord of "the Working Man's Paradise".
With enlistments falling away in 1916, Prime Minister Billy Hughes pushed for conscription and pushed through the Unlawful Associations Act.
Groups that voiced opposition to the war, like the International Workers of the World, were banned and dissidents were jailed for publishing material "likely to cause disaffection or alarm". When waterfront workers and coal miners went on strike, the War Precautions Act was invoked to send them back to work.
In September 1916, the Sydney Twelve were arrested and tried for treason. "Fifteen years for 15 words" was how one of the prisoners described his crime and punishment.
The conscription referendums of October 28, 1916, and December 20, 1917, became a massive rallying point for people who opposed the war — or the federal government's domestic policies. There were diverse reasons for that opposition, including the anti-British sentiments of Irish Catholic Australians.
In Melbourne, the meeting place for such public debate was Yarra Bank, a pocket of land nestled between what today is Birrarung Marr and the Rod Laver Arena. Anti-conscription demonstrations saw up to 100,000 people gather on the dusty banks of dirty brown Yarra River.
Most protest meetings were peaceful, but one became infamously violent. "Riotous scenes at Yarra Bank", headlines around the nation proclaimed, when a demonstration organised by the Women's Peace Army in the week before the 1916 referendum turned nasty and returned servicemen began to attack female speakers. Both conscription referendums ultimately failed.
The Australian Dictionary of Biography contains profiles of 174 anti-conscriptionists, many of whom went to jail, including Vida Goldstein's compatriots Adela Pankhurst and Jennie Baines. Baines was imprisoned for refusing to pay the fine she was issued for flying a red flag at Yarra Bank in 1918. She is reputedly the first Australian prisoner to go on a hunger strike.
Other protesters were deported. As historian Janet Butler reminds us:
It does take a special kind of bravery to stand against the tide.
The enduring legacies of the first world war emanate beyond the battlefields of Gallipoli, manifested not only in the "shattered Anzacs" whose families bore the burden of care, but also in the class and sectarian divisions that shaped Australia's social and political relations in the 20th century.
Lest we also forget that the democratic freedoms we hold dear today – freedom of the press, freedom of assembly, freedom of speech — were won in battles fought on home soil by courageous women and men who sacrificed much, but are still accorded little recognition.
Perhaps, by the 125th anniversary of the Gallipoli campaign, when we again celebrate our national liberation narratives, we will come to associate riverbanks, as well as beaches, with the potent ebb and flow of freedom.
---
Clare Wright will host a free event on the Future of Anzac Day at Federation Square in Melbourne on Monday, April 20, 6–7.30pm. She has also written an essay on the nature of historical memory in the Griffith Review's latest edition on the enduring legacies of war. And you can listen to her speak about the anti-conscription movement during the Great War below, in a podcast produced by La Trobe University.